Bigelow Lab and United States Vendée Globe participant, Bruce Schwab-Ocean Planet, collaborated in 2004 to bring viewers a unique, educational experience. As Bruce circumnavigated the globe aboard Ocean Planet, he shared his experiences and observations through a weekly on-line journal, available at www.oceanplanet.org. This collaboration provided a portal through which students, teachers and race fans alike, could increase their understanding of various dynamics of the ocean as Bruce encountered them. Below a variety of web-based resources, relevant to each topic, remain available along with a corresponding link to Bruce's online race journal.
The Vendée Globe is a solo, yacht race that tests a sailor's endurance over thousands of miles of challenging ocean terrain. This race binds its competitors to just a few simple rules: around the world from France by way of Antarctica, no help, no stopping, one boat, one sailor. Organized by France every four years, the 2004-05 race had 20 participants representing 6 nationalities: France, United States, England, Austria, Switzerland, Australia. Fourteen skippers took part for the first time, two of whom were women. The course starts and ends at the port of Les Sables d'Olonne in France. The previous record for completing the race was 93 days. The new record stands at 87 days, achieved in 2005 by France's Vincent Riou. Competitors departed November 7, 2004 and sailed more than twenty-five thousand miles, non-stop and unassisted. The race course is described below in general terms and traced on the map:
Depart Les Sables d'Olonne

Sail south through the Gulf of Gascogne

Keep to port, Cape of Good Hope, Africa

Leave the Atlantic Ocean and enter the Indian Ocean
Keep to starboard Antarctica, in the Southern Ocean
Keep to port,

Cape Horn, South America

Head northward past Brazil

Return to Les Sables d'Olonne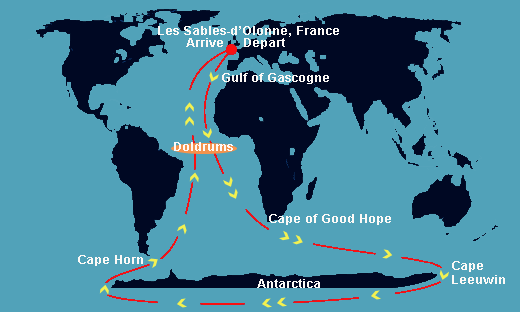 Race course map adapted from image on official Vendee Globe website.
Visit the official Vendee Globe race link (requires translation, available through Google)